---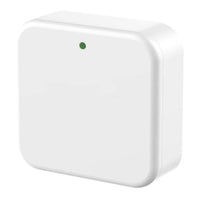 Features:
Compatibility - Works with Scyan bluetooth enabled Smart Door Lock and 2.4G WIFI router.
Remote Control - The G2 gateway connects to the TTLock APP for remote unlocking anywhere. It also supports sharing, modifying and deleting E-keys anytime, anywhere, and monitoring door status, battery life and unlock activity logs in real time.
Voice Control - The G2 Gateway works with Alexa and Google Home (not included in the package) for voice control of smart locks. One gateway can be paired with multiple smart locks.
Installation Suggestions - It is recommended that the distance between the gateway and the smart door lock is within 26 ft (8 meters). Please note that when adding the gateway, make sure that your smartphone and the gateway must be connected to the same Wi-Fi router.
Note - If login fails in Alexa, please enter the area code "+1" in front of your account. There is only Wi-Fi gateway and USB cable in the package. There is no power adapter in the package, please use USB power adapter to power it. Your cell phone charge could be also used as a power adapter.
 Specifications:
Model: G2
Router requirement: WiFi 2.4G
Material: ABS
Color: White
Dimensions: 70mm x 70mm x 26mm
Power interface: Type-C and USB
Power input: DC 5V/500mA
Network requirements:
When adding a gateway, your smartphone and the gateway must be connected to the same Wi-Fi router.
Light indication:
After plugged in power, blue light indicate that the Gateway is in working status, red light indicate that the gateway failed to connect to router.
Package List:
Gateway, USB Cable and User Manual.